---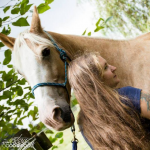 Lyz Rudolph-Michaels
Dynamic Balance Equestrian
(Travels BC and AB by appointment)
Service Specialty:
Equine
Small and Large Animal
604-992-7945
lyz@dynamicbalanceequestrian.ca
www.dynamicbalanceequestrian.ca
Dynamic Balance Equestrian is Lyz Rudolph-Michaels: animal structural alignment specialist, coach, and consultant. While horses are my primary focus, I offer bodywork to other companion species as well. Offering mobile service by appointment throughout BC as well as consulting by phone, email, or messenger.
---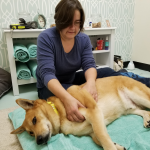 Jolena Kusec. BSc (Agr), Dipl EMT
JEMS Animal Massage Services
Aldergrove, BC
Service Specialty:
Canine Massage
604-551-8116
jolena@jemsmassageservices.ca
www.jemsmassageservices.ca
Jolena  has completed a 2-year Equine Massage Therapy Diploma, is Certified in Canine Massage and Canine Trigger Point Therapy. With her high level of education and experience (20+ years), Jolena provides Professional and Caring massage to your canine companion at The Spaw Rehabilitation Centre in Aldergrove. She specializes in Canine Sports Massage and Rehabilitation Massage.
---

Philip Barker
Thula Thula Animal Therapy
Mission, BC
Service Specialty:
Small Animal
Reiki
Hydrotherapy
TCM
778-867-2461
jake@tjhulathula.ca
ThulaThula.ca
Maintenance Massage but with a major interest in Rehabilitation of traumatized, injured, bereaved, abused, elderly and dying dogs. Also providing Reiki for animals, hydrotherapy, and TCM.
---