---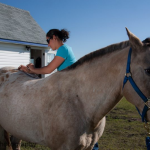 Rachel Gedaliya
R.G. Equine Body Works
Service Specialty:
Large Animal
403-963-2465
rachged@gmail.com
Structural Alignment, MFR , Kinesio- tape, Natural Performance Hoof Care. Balancing horses from the foot up, bringing alignment to create movement with grace and ease.
---
Valerie Black
Pawsitive Touch Canine Massage
Service Specialty:
Small Animal
Energy Modalities
250-802-9957
info@pawsitivetouchmassage.ca
www.pawsitivetouchmassage.ca
Providing a compassionate and gentle approach, owner Valerie Black, is the only certified, licensed, insured Canine Massage Professional in Nanaimo, British Columbia, Canada, who offers a safe, natural, holistic method of maintaining your dog's health and wellbeing.  Whether you have a show dog, an elderly dog, an athlete or simply a beloved canine companion, Pawsitive Touch Canine Massage can come to your home to ensure a comfortable, relaxed atmosphere to enhance your dog's massage experience.